About Us / Employee Bios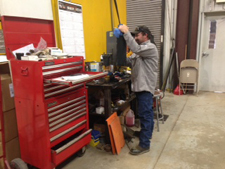 Zia Wire Rope in Farmington inspects, repairs, and test wire rope, BOPs, and power tongs. We also test chains, wire rope, nylon slings, and hoisting equipment. We offer a variety of safety products including oilfield supplies, hand tools, sealants, and much more. Our high specialized, rare equipment is used to test equipment with higher accuracy and efficiency that other types of machinery.
Throughout the process, we document everything, providing you with service, machining, and inspection reports on Reedy, Townsend, WSI and Schaffer BOPs. We can also diagnose machinery issues repair chains, bearings, and gears. We also replace motors and provide torque testing.
Zia Wire Rope not only provides supplies and services for industrial businesses; we are also proudly involved in the community. In October of 2014, we donated wire rope for the 4th Annual Cathy Lincoln Memorial "Get Pinked" 5K event. Stop by our Facebook page for frequent updates, news, and opportunities to drop a line or ask a question of our staff.
We employ some of the most dedicated, experienced individuals in their fields. Read more about our staff in the bios below.
Founded in March, 2012 we continue to grow rapidly by providing our customers with the highest possible levels of safety, service, quality and value.