Quality Industrial Services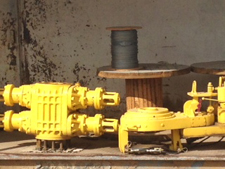 Zia Wire Rope services oilfields, general industrial, mining, gas, forestry, and utilities industries, providing testing and repairs they need to accomplish their tasks efficiently.
Machine Repairs
Our repair service is available for but not limited to Valucon, Koomley, and Shaffer blow out preventer equipment, along with Martin Decker and TOTCO type drilling instruments.
Power Tong Repair
Zia Wire Rope provides power tong repair from rod to casing. We repair closed or open faced power tongs.
Parts Replacement
Zia Wire Rope & Supply replaces several machinery parts, including the chain, bearing, gear, and motor. We install the parts you need, providing quality service done right every time.
Torque Testing
We make sure that all of your equipment is up to industry standards and codes.
Preventative Maintenance
Keeping up with all preventative maintenance will prevent the need for large repairs, saving you money and extending the life of your equipment. We provide all preventative maintenance services, from oil and filter changes to minor parts replacement.
Oil Field Equipment Repair and Testing Service
Our Farmington oil field supply company repairs and tests oil field equipment used for drilling and well service operations.
Other Testing & Inspection
Zia Wire Rope & Supply also tests and/or inspects:
Sand Lines
Tubing Lines
Guy Lines
Slings & Fittings
All overhead lifting hardware
We offer a full range of wire rope services and support
Non-Destructive Testing (NDT), including visual examination
Custom fabrication and design in synthetic, wire rope and chain
Load testing and re-certification up to 225,000 lb